My first novel, The Dolorous Adventure of Brother Banenose, going out of print was a very depressing, hectic, & confusing time for me. Fortunately that period is coming to an end. Lethe Press will be republishing The Dolorous Adventure of Brother Banenose! Lethe Press specializes in both LGBTQIA fiction & rescuing out of print books from the River Lethe. Its publisher, Steve Berman, personally reached out to me about giving the book a new home.
Lethe Press plans to relaunch the book this fall. (I'm crossing my fingers & toes that this doesn't become an annual occurrence.) The new edition will feature a revised afterword & a new cover. So there will be some degree of novelty in the new edition if you've already got the first. You'll be able to put them side by side to compare & contrast. So if you missed out on The Dolorous Adventure of Brother Banenose the first time, you're getting a second chance. If you liked the book so much that you'd like to buy it again, you're also in luck!
Thank you very much for bringing Brother Banenose, Fairuza, Stephfi, & all the rest aboard, Lethe Press!
∼
Marvel celebrated Canada Day by announcing USAvengers. They failed to  balance out this international faux pas by announcing a new Alpha Flight book on July 4th. They didn't even try rebranding it CanadAvengers. (Meanwhile I did my obligatory fireworks before the sky water came & cooked the experimental meal of the patriots!) In another instance of Marvel's anti-Canadian bias, Captain America is getting a life-sized statue in Brooklyn that really only commemorates the movie version because people love Chris Evans. (Coincidentally I discovered the add a GIF to a tweet thing doesn't work when I typed in "Grunkle Stan" & it kept spitting out Bucky.)  Why doesn't Wolverine get a statue too?
Aside from Red Hulk almost justifying his existence by finally sporting a pornstache, USAvengers' main selling point appears to be Squirrel Girl. And Anna Kendrick declared she would play Squirrel Girl if Marvel got its act together! Behold this glorious photo mock-up!
Anna Kendrick's Squirrel Girl needs to single-handedly kick Thanos's lazy ass (preferably whilst he's piloting the Thanos-Copter) in Infinity War Part 2! Then her pal Nancy can convince Loki to become Cat Thor! Make mine Marvel Cinematic Universe!
∼
This year, Canada Day killed Robin Hardy, director of The Wicker Man. You know, the one that's not a travesty. He may not have directed many movies, but The Wicker Man is so outstanding he didn't need to. R.I.P. Mr. Hardy.
∼
"YOU BROKE MY KID'S ART-THING!"  I am liking the Preacher TV series so far, although the latest episode ended on a note that greatly expanded the scope of Jesse's powers beyond their established parameters. This rankled me, but maybe it's best to see what transpires in the episodes to come before I go full spoiler-ranty. Perhaps I should save it for a comprehensive review of the inaugural season? Unless I get real desperate for things to write about while the televisual pickings are slim.
NECA has acquired the Preacher TV license. Custom Howard Stark & Raina toys will be much easier to make next year.
∼
heliocentrism : Sherlock Holmes :: Woody Allen films : Batman
And now a brief yet tangentially relevant conversation I had with Jack Gattanella, the writer-director of Green Eyes. (Did you know that Green Eyes is now available on demand & if you squint you can see references to The Dolorous Adventure of Brother Banenose?)
me: Does Suicide Squad count as a Batman movie?
Jack: Does Thor count as a Hawkeye movie?
me: Nothing counts as a Hawkeye movie except MASH & Last of the Mohicans.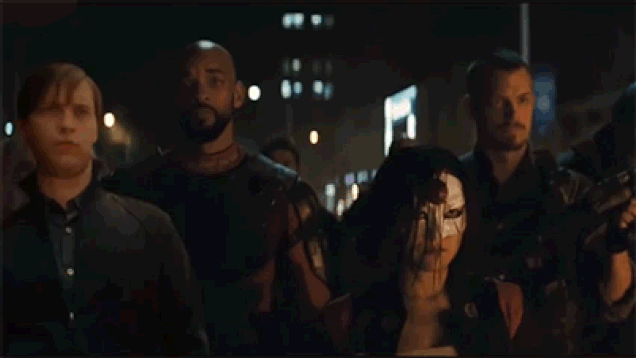 ∼
 Season 2 of Supergirl needs Warwick Davis as Mr. Mxyzptlk! Maybe that Fifth Dimensional trickster can be the linchpin of the CW's inevitable DC four-show crossover? He's got a lot more pizazz than the Anti-Monitor. Mr. Mxyzptlk is probably our only means of seeing the CW's Oliver Queen piloting a mech-suit, which would improve (Green) Arrow by a vast magnitude.
Now that Leg-ends of Tomorrow is introducing the Justice Society of America, which Starman do you suppose will be on the team? There have been a lot of them. Or will they skip straight to Stargirl? Since it's a show about time travel, it could probably fit the entire legacy in.
∼
If you've already heard Jesse Williams's BET humanitarian award speech, read Rachel Talalay's WIFTV woman of the year speech. Then watch a Cabin In The Woods & Tank Girl doubleheader!
∼
The Folio Society edition of Mort by Terry Pratchett is worthy investment for bibliophiles. The illustrations by  Omar Rayyan are lovely & the velveteen cover feels nifty. Most importantly, the story inside is droll & full of kittens. It's pricey, but not quite as insane as the facsimile edition that sold out in only thirteen hours!
 ∼
When I put treats on the table, my cat usually stands on a chair & bats them onto the floor to eat. Yesternight she managed to scoop one into her paw & eat it from thence. I'm so proud of her!